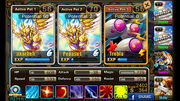 Trebla is a electric grade S pet.
Appearance
Edit
It is three electrical spheres.
Evolution
Edit
Bommi level 20 becomes Twibam.
Twibam level 40 becomes Trebla.
It has the highest base magic , with 200.
In its family, every evolution adds another sphere
In every evolution , its magic adds by 50.